"This book is a must read for business leaders who want to be more profitable and competitive in their marketplace, and for employees who want to live healthier and happier lives."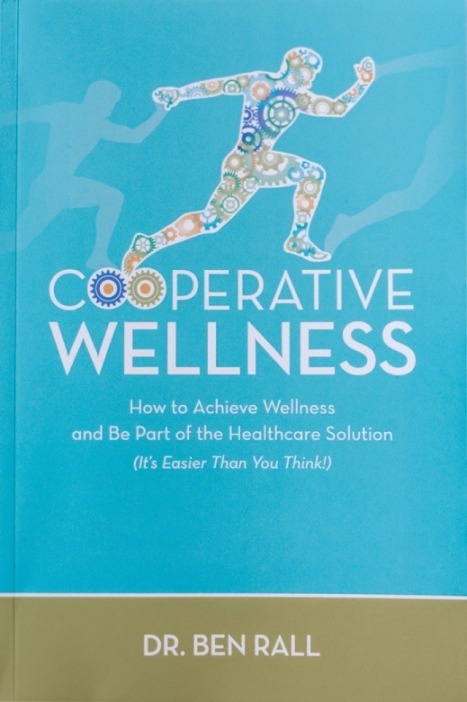 For all our focus on health and healthcare in this country, why aren't Americans healthier? Better yet, what can be done? In Cooperative Wellness, Dr. Ben Rall answers these questions and more by stripping a complicated and controversial issue down to its core and searching for the truth that lies within. If you long for better health for yourself and your loved ones, if you're an employer or employee who's concerned about the health of your business and those you work with, if you feel discouraged or overwhelmed by the current state of our nation's collective heath — this book is for you.
You'll learn about a powerful, simplified approach that will help you:
Understand how to work with your body and achieve amazing health
Put healthcare back in your hands so you can be part of the solution
Get your best return on investment in today's healthcare model
Envision what the healthcare of the future really looks like
View the issue from a perspective that challenges the current paradigm
WHAT PEOPLE ARE SAYING
ABOUT THE BOOK
I have had the blessing of working with the top 'health care revolutionaries' of our day, and have spent the last 15 years helping provide the tools and resources people need to live happy, healthy lives. What Dr. Ben has done with this book has created an opportunity to leap-frog our current failing medical model and put vitalistic, natural, and effective healthcare directly into the hands of millions of people that may never have had access. Read this book, but more importantly, follow the recommendations!
Dr. Josh Axe, founder of Dr.Axe.com, a leading natural health site
"Our healthcare system is on the verge of collapse. Insurance companies, health care providers, regulatory agencies, and insureds (you and me) have all contributed to getting us to this point. This is not new news. As a society we have been losing this battle for our own health for decades. But, all is not lost. In a compelling treatise conjuring up images of David and Goliath, The Wizard of Oz ("pay no attention to the man behind the curtain"), with a little bit of the style and badassery of Batman (Bale not Clooney) thrown in, Rall presents a clearly defined roadmap for navigating through - and out of - a healthcare system that is gasping out its last breath. It is a tough call into accountability for all involved and the stakes have never been higher."
Greg Martin, CEO of RAM, LLC
"This book is a must read for business leaders who want to be more profitable and competitive in their marketplace, and for employees who want to live healthier and happier lives. The wisdom shared by Dr. Rall exposes the scary illusive truth of the ineffectiveness of a broken healthcare system that does not look out for our ultimate health and best interests, but maintains a heartless platform for corporate greed. I can say from real life experience that our company (IOA), has literally saved over $1,000,000 in insurance premiums and improved the overall health of our valued staff in the process using the principles in this book."
Rick Dalrymple, CPIA, CMIP, America's Leading Risk Reducation
"Dr. Ben's vision for a healthier workplace in inspiring. In his book he demonstrates the incredible impact it has on all parts of business and it's a must read if you want to care better for your team."
Jaclyn Lindsey, CEO - Kindness.org
"When looking at our society as a whole, we either do no want to believe there is a problem with our current healthcare system or we are aware and shows exactly what you can do to change it. Whether you are a solution to your employees, Cooperative Wellness if you for."
Daniel & Dr. Kimberly Huck, Owners of American Row House Gyms
"My first foray into corporate wellness was in 1981. Since then, the personal state of health in the USA has only dramatically worsened. It just isn't working because health is a personal choice. Cooperation, however, offers the best and most reasonable hope for our sustainable well-being. Dr. Rall paints a vibrant rationale and philosophy grounded in realism. He makes a common-sense argument for living life on purpose, which is best realized when we're robustly cooperating in our health."
Kevin W. McCarthy, Author, The On-Person Business Person
"Dr. Ben Rall is one of this generation's thought leaders on fixing this country's healthcare crisis."
Dr. Ben Rall was born and raised in the great state of South Dakota. He lives in Orlando, Florida, with his wife, Megan, and two children, Jack and Grace.
Dr. Rall owned and operated one of the largest chiropractic and wellness clinics in the United States, and currently helps individuals and organizations apply a vitalistic model of healthcare to their lives.